Physical Education
Philosophy
To provide a meaningful and rewarding experience that is an integral part of your child's total educational experience here at Cook-Wissahickon Elementary School.
Grading
Students grades are based on participation, being prepared (wearing sneakers), proficiency skill level and student behavior.
Program Highlights
Students participate in a variety of activities including:
Games & Activities
Traverse Rock Wall & Rope Activities
Scooter Games
Parachute
Pillo Polo
General Sports (Basketball, Soccer, Football, Frisbee, Golf, Floor Hockey)
Yoga
Drumming Alive

3rd Graders participate in a Drumming Alive unit that is team taught by Mrs. Hagan (PE Teacher) & Mr. D'Orseaneo (Music Teacher)

Medicine Balls
Stability Balls
Middle School HYPE Team
HYPE team (Healthy You, Positive Energy) is a youth wellness initiative that empowers our middle school students to become leaders for healthy change in the school and community.  Once a month the HYPE team hosts a healthy taste test.  The students also help run the games at the Harvest Festival and Family Fun & Fit Night.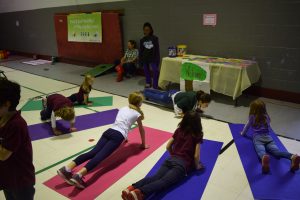 Events Hosted:
Evening of the Arts Showcase – December
Jump Rope For Heart – January
Family Fun & Fit Night – April
Bike To School Day – May
Field Day – June
Partnerships With
Fuel Up To Play 60
Action For Healthy Kids
HYPE (Healthy You, Positive Energy)
The Food Trust – Einstein
American Heart Association
Einstein Medical Center provides USDA SNAP-Ed nutrition education at Cook-Wissahickon. This includes education for students and their caregivers, working with the HYPE team and other areas to help improve and sustain a healthful environment.
Middle School Athletic Teams
Girls & Boys Basketball
Golf